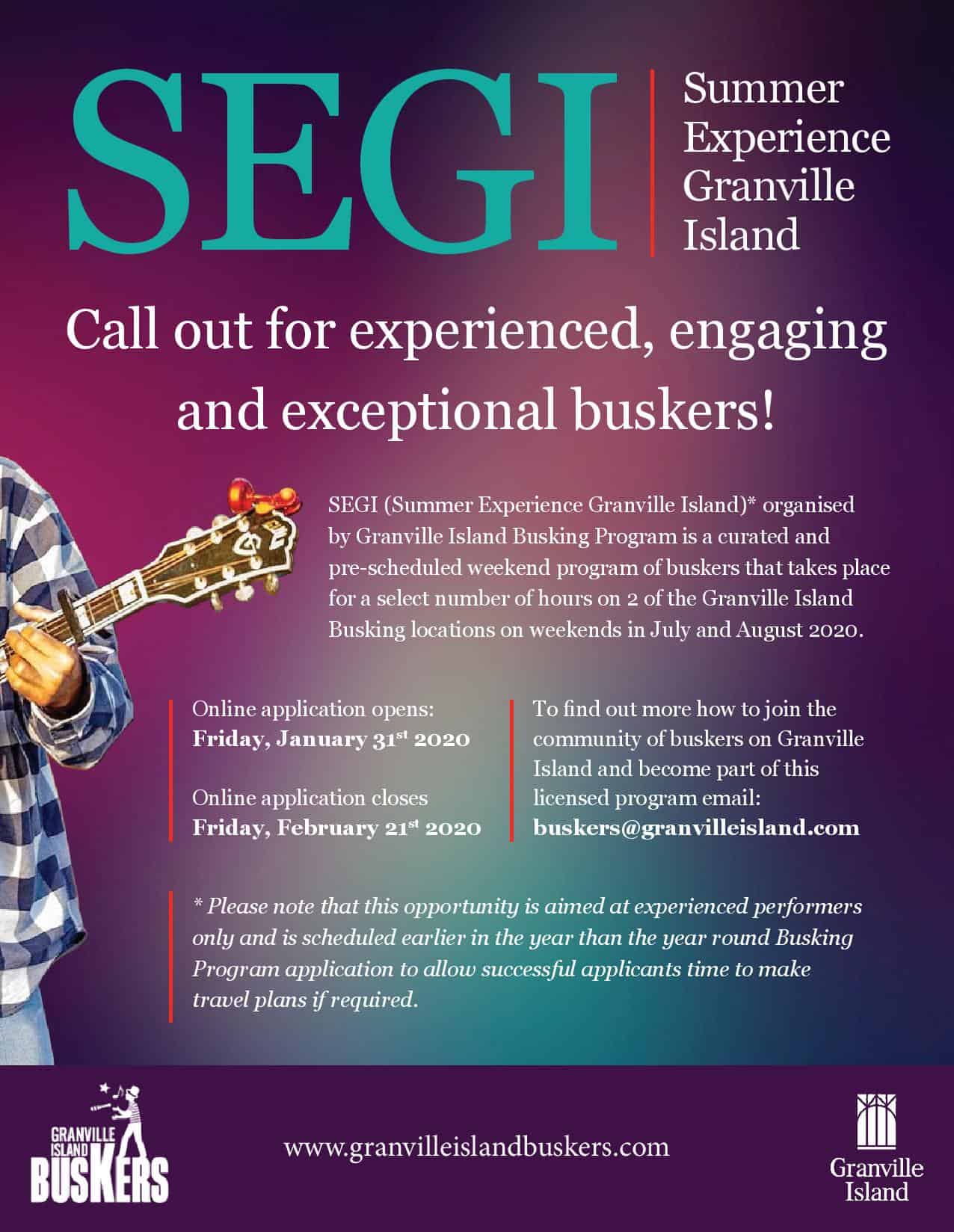 SEGI (Summer Experience Granville Island)
SEGI (Summer Experience Granville Island) is currently open to applications and the deadline for submission is Friday, February 21.  Applicants will be notified of the outcome by Tuesday March 31 at the latest.
SEGI is a curated and pre-scheduled weekend program. It is aimed at experienced, engaging and exceptional buskers. The program will take place at 2 prime locations (from the total of 7 amplified outdoor locations on Granville Island). There will be a total of 10 opportunities per day (4 of which are reserved for circle acts) between 2 locations from 12pm – 5pm for 1 hour time periods.
July                                        
Sat 4, Sun 5
Sat 11, Sun 12
Sat 18, Sun 19
Sat 25, Sun 26           
August
Sat 1, Sun 2, Mon 3
Sat 8, Sun 9
Sat 15, Sun 16
Sat 29, Sun 30
*Due to the potential for international applicants and the requirements for professional experience the selection process will be based on material submitted via online application.
*Please note that this opportunity is aimed at experienced performers only and is scheduled earlier in the year than the year round Busking Program application to allow successful applicants time to make travel plans if required.
*Only online submissions will be accepted. If you require assistance in your application contact buskers@granvilleisland.com
SEGI 2020 Application
Please note that the SEGI 2020 application closed midnight Friday, February 21, (PST) Pacific Standard Time (North America). .